Members of the Combined Fire Authority will:
Make informed decisions in relation to Service policy and strategy aligned to the Authority's vision, priorities, objectives and values.
Approve the Service's budget and ensure they receive sufficient money from local council tax.
Monitor the Service's performance to ensure it is efficient, effective and economical.
Appoint the following positions:
Chief Fire Officer/Chief Executive
Clerk to the Fire Authority
Treasurer to the Fire Authority
Principal Officers
Act as the final level of appeal in employee disciplinary and grievance procedures
Contact the CFA
Contact details for members can be viewed on the pdf or by clicking on the graphic below  - CFA Poster June 2019.pdf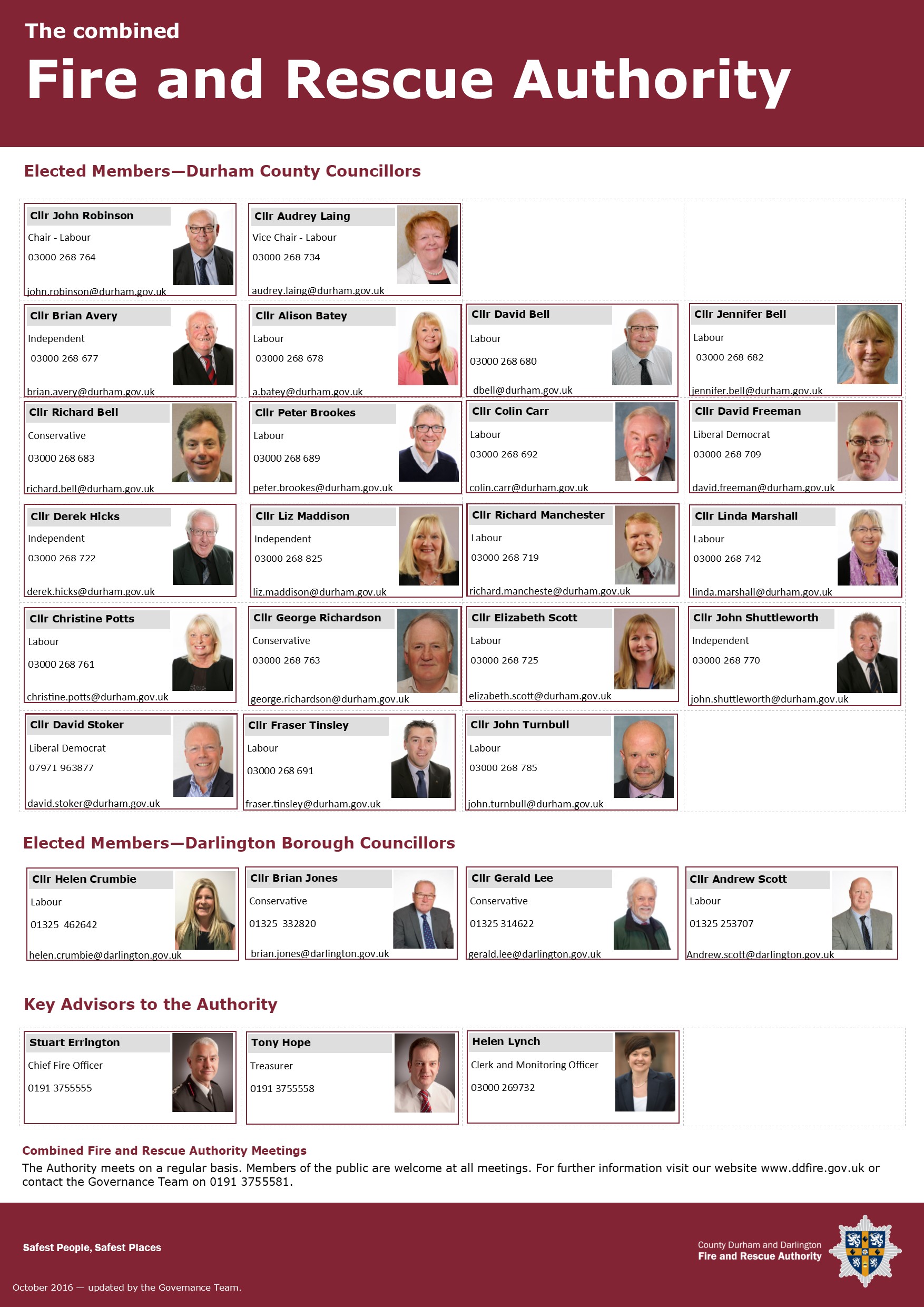 Elected members
Members of the Combined Fire Authority are elected from each of the two authorities. The number of members for each authority is determined by the size of the electoral representation within each authority. The Fire Authority's political balance is also a reflection of that of the two local authorities. Below is the Membership which was last updated 3 January 2019.
Councillor John Robinson - CHAIR - Durham County Council - Labour
Councillor Audrey Laing – VICE CHAIR – Durham County Council – Labour
Councillor Brian Avery - Durham County Council - Independent
Councillor Alison Batey - Durham County Council - Labour
Councillor David Bell – Durham County Council - Labour
Councillor Jennifer Bell – Durham County Council - Labour
Councillor Peter Brookes - Durham County Council - Labour
Councillor Colin Carr – Durham County Council - Labour
Councillor Helen Crumbie - Darlington Borough Council - Labour
Councillor Alan Gardner - Durham County Council - Independent
Councillor Derek Hicks - Durham County Council - Independent
Councillor Paul Howell - Durham County Council - Conservative
Councillor Charles Johnson - Darlington Borough Council - Conservative
Councillor Brian Jones - Darlington Borough Council - Conservative
Councillor Linda Marshall – Durham County Council - Labour
Councillor Henry Nicholson - Durham County Council - Labour 
Councillor Christine Potts – Durham County Council - Labour
Councillor George Richardson – Durham County Council - Conservative
Councillor John Shuttleworth - Durham County Council - Independent 
Councillor Mamie Simmons - Durham County Council - Liberal Democrat
Councillor Sue Richmond – Darlington Borough Council - Labour
Councillor Watts Stelling - Durham County Council - Independent
Councillor David Stoker - Durham County Council - Liberal Democrat
Councillor Fraser Tinsley - Durham County Council - Labour
Councillor John Turnbull – Durham County Council - Labour