Image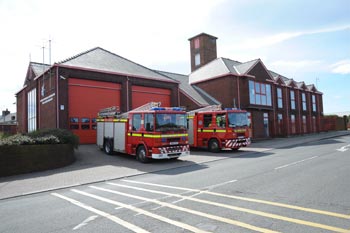 Address
Parkside Road
Seaham
SR7 7UB
United Kingdom
Overview

Crewing Arrangements

Day Crewing and On-Call Firefighters

Community Safety Support

Please contact our Community Safety Team on 0345 2234221

Fire Stoppers. 080016905558  www.firestoppersreport.co.uk  

Like Crimestoppers, Firestoppers gives people the power to speak up and stop arson, 100% anonymously.
History

1948
Appraisal of the facilities at the fire station at Princess Road, Seaham in the official report on the formation of Brigade was:

Brick-built building, formerly part of a small isolation hospital with an unsatisfactory prefabricated hut – used for dormitory and messing purposes – as it took up all the space on the drill yard. It would be approved by the erection of another floor at the rear of the station.

1964
A brick built training tower was erected.

1991
A bay appliance garage and training tower was constructed on the same site as previous station.
Performance