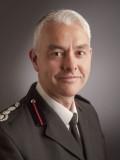 Stuart Errington, CFO 
Chief Fire Officer Stuart Errington joined what was County Durham Fire Brigade in January 1993 as a firefighter.  He has had a wide and varied operational career serving at a number of fire stations and in support departments across the Service. Stuart was appointed Chief Fire Officer, on an interim basis, in August 2015 becoming the first person in the Service's history to progress internally from firefighter to chief officer. His appointment was made substantive on 21 March 2016. 
In 2006, Stuart spent two years seconded to the Office of the Deputy Prime Minister (ODPM) as a Business Change Manager attached to the National Resilience Programme for Fire and Rescue Services. He became a Principal Officer (Assistant Chief Fire Officer) in 2009 and was promoted to Deputy Chief Fire Officer in 2012.  
Between 2011 and 2017 Stuart held the elected position of National Secretary of the Association of Principal Fire Officers (APFO). He sits on the National Fire Chiefs Council's (NFCC) Performance Committee which has responsibility for ensuring the NFCC strategy is delivered. He represents the NFCC at the Inclusive Fire Services Group, leads on the national procurement work stream for fleet and Chairs the Draeger User Group. In July 2017 Stuart took over as Chair of the County Durham and Darlington Local Resilience Forum.
In order to drive income generation to help mitigate cuts to central government funding, Stuart established the Service's Community Interest Company (CIC) in 2013 and chaired the board of directors until stepping down when he took over as Chief Fire Officer.  
Stuart has been a Graduate of the Institute of Fire Engineers since 1998, gained a Master of Business Administration (MBA) from the University of Leicester in 2007 and a Master of Science (MSc) in Managing Organisational Performance from Cranfield University in 2011.  In January 2014 he successfully completed the Business Directors Programme with Cranfield University.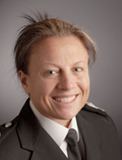 Sarah Nattrass, ACFO
Sarah joined County Durham Fire Brigade in 1994 serving as a retained firefighter at Stanhope fire station for two years before joining the wholetime service in 1996.  Sarah has served her wholetime career in Cumbria Fire Service and Cleveland Fire Brigade before returning to County Durham and Darlington Fire and Rescue Service in 2000.  
She has had a wide and varied career serving at a number of fire stations and within support departments across the service gaining a wide range of operational, managerial and leadership experience. Sarah specialised as the Quality Assurance Manager in Training, Risk Manager, Operations Delivery Manager, Head of Organisational Development and Head of Workforce Development.
Sarah was appointed as Assistant Chief Fire Officer on 14 February 2018 and is a member of the Service Leadership Team with strategic responsibility for the Service's support functions which include, Training, Assets, Assurance and Workforce Development.  
In 2016 Sarah gained a Master of Business Administration (MBA) from Teesside University.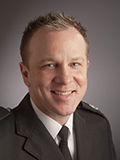 Dominic Brown, ACFO
Dominic joined the service as a firefighter on 15 November 1993. He served operationally at Bishop Auckland and Peterlee fire stations and then, following four years as a service training instructor, he returned to Peterlee in 2004 as a watch manager. Following time in specialist roles such as the service's New Dimension Officer and Incident Command Manager he returned to form part of the district management team in the Wear and Tees and then Durham districts. In 2011 he joined the management team within the Community Prevention and Protection (CPP) section with responsibility for community safety and legislative fire safety and became the CPP Group Manager in 2013. He was promoted to Area manager in 2014 and has subsequently managed the 'Training & Risk' and then 'Emergency Response' elements of the Service.
In February 2018 Dominic was promoted to the post of Assistant Chief Fire Officer with organisational responsibility for Emergency Response and Community Risk Management and is a member of the service leadership team. He works at the Service HQ in Belmont, Durham.
He is the chair of the Service's trading company, Vital Fire Solutions, and is the national deputy lead for the High Volume Pump and Flood Rescue National Resilience Capability. He gained his Master of Business Administration (MBA) graduating with distinction from Teesside University in 2015 and is married and with three children.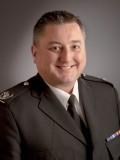 Keith Wanley, Temporary ACFO
Keith joined the Fire and Rescue Service in 1992 after serving for 5 years in HM Armed Forces with the 3rd Battalion The Parachute Regiment.  During his Fire Service career Keith has gained a broad range of operational, managerial and leadership experience at supervisory, middle and strategic level.  He has served operationally on several fire stations and in managerial posts as a District Manager, Operations Manager and as a Flexible Duty Officer, but has also specialised as the Training Manager, Community Safety Manager, Head of Organisational Development and Head of Operations Delivery.  In 2013 Keith graduated with distinction from Teesside University with a Master of Business Administration (MBA) degree.
Keith's role in the Fire Service has required him to work closely with partner agencies such as the Police and Local Authorities, developing and delivering multi agency plans to reduce community risk and increase community safety.  His current role as an area manager gives him strategic responsibility as a member of the Service Leadership Team and as Head of Community Risk Management he has responsibility for the Service's community protection and prevention teams and information services.  These teams have responsibility for providing advice to and auditing businesses on fire safety and taking enforcement action under the fire safety legislation, they also provide community safety education to the public and analyse data and intelligence which helps the Service make best use of its resources.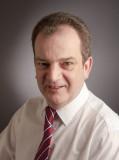 Tony Hope, Head of Corporate Resources and Treasurer 
Tony holds the position of Director of Corporate Resources and is also Treasurer to the Fire and Rescue Authority. His responsibilities include finance, estates, facilities management, ICT, procurement, corporate communications and governance. Tony is also a Director and Company Secretary for the Authority's trading arms, County Durham and Darlington Fire and Rescue CIC and Vital Fire Solutions which were formed to enable trading with the private sector.
Tony qualified as a member of the Chartered Institute of Public Finance and Accountancy (CIPFA) in 1986 and his background is in local government having previously worked for Durham County Council and North Tyneside Council before joining County Durham and Darlington Fire Service as Head of Finance in 2011. He has over twenty-five years experience of working with the fire and rescue service in a finance capacity.
Section Heads and Area Managers

Keith Carruthers
Bio to come.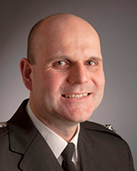 Steve Wharton
Steve joined the fire and rescue service in 1988 and has had management experience at both smaller and larger fire stations before transferring into business fire safety and qualifying as a legislative inspecting officer. In this fire safety role he has specialised in projects and public entertainment as well as holding references for residential care premises. From there he transferred into the community safety section and was responsible for initiating innovative delivery methods as well as introducing the first cadet scheme into the service. Moving through his career he has served as part of the response district management team gaining valuable experience in problem solving and anti-social behaviour reduction as well as managing several stations.
Steve qualified with a foundation degree in fire scene management and has worked as a fire investigator within the service and been involved in some higher profile investigations presenting evidence at Coroners and Crown Court. Transitioning into more senior management roles, Steve has served in operational support roles as Group Manager overseeing large projects and introducing an operational assurance tool within the service and as operational response manager leading the running of all of our fire stations and command and control teams. He has also returned to manage the community and fire safety teams in a more recent role.
Steve is currently Area Manager responsible for training, assets and assurance and is presently studying with the University of Sunderland for a Master of Business Administration (MBA).

Katherine Metcalfe
Katherine joined the Service as a Human Resources Officer in 2007. She started her career in manufacturing as part of her degree programme, moving to retail, the NHS and then the charity sector working in various human resources roles gaining a broad range of experience. 
Katherine's portfolio as Head of Workforce Development, includes human resources, organisational development. health and wellbeing, workforce planning and most recently apprenticeships where the Service has been recognised externally for its innovative firefighter apprenticeship programme. She is also the chair of the Service Management Team (SMT) and the Corporate Wellbeing Group (CWB).
Katherine graduated from University of Sunderland in 2005 with a BA (hons) in Human Resource Management and is a chartered member of the Chartered Institute of Personnel Development (CIPD).  Most recently, Katherine has completed a CIPD level 7 Diploma in Human Resource Management.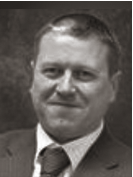 Keith Lazzari
Keith joined the service in 2006 after an earlier career in ICT followed by 17 years working in senior manufacturing management with Nestlé and latterly as a manufacturing improvement consultant with Young's Bluecrest Seafood in Humberside.  Being a trained lean practitioner and with a track record of delivering efficiency and performance improvement, Keith initially joined the service to develop early performance management initiatives and established the service's Business Improvement Team during the early years of service transformation.
Keith's portfolio as Head of Corporate Resources includes communications and governance, ICT infrastructure and support, financial services and estates and facilities management.  Keith is also the service lead for engagement with the Home Office in connection with the Emergency Services Mobile Communications Programme.
Keith holds a degree in Business Management and completed a degree in Leadership and Performance Coaching in 2009, both with the University of Northumbria.  More recently, Keith successfully completed the Executive Leadership Programme in 2017 delivered by Warwick University.