Introduction
Any premises where fire safety legislation applies should be provided with fire safety signs which comply with the Health and Safety (Safety Signs and Signals) Regulations 1996.
A fire safety sign is defined in Part 2(1) of the regulations as a sign which:
provides information on escape routes and emergency exits in case of fire;
provides information on the identification and/or location of firefighting equipment; and gives warning in case of fire.
Colours of Signs
| Colour | Meaning or Purpose | Instructions and Information |
| --- | --- | --- |
| Red | Firefighting Equipment | Identification and location |
| Blue | Mandatory Sign | Specific behaviour or action |
| Green | Emergency Escape | Doors, exits, routes |
Composition of Escape Route Signs
Fire safety signs conforming to British Standard BS5499: Part 1 fully satisfy the requirements of the Health and Safety (Safety Signs and Signals) Regulations 1996 and are widely understood. The use of appropriate supplementary text detailed in BS5499 will greatly assist building managers, occupants and owners to understand the meaning of the new signs and help fulfil the legal requirement in this respect.
 
Responsible persons have a statutory responsibility to ensure that these signs are maintained, and that employees understand actions to be taken in conjunction with signs. Signs should be durable and securely fastened to ensure visibility is maintained.
Meaning of Directional Arrows
Directional arrows clarify routes to the final exit. All fire exit signs should have appropriate arrows until a place of relative safety is reached.
1. Signs that do comply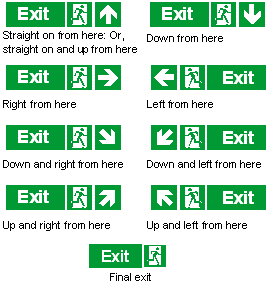 The use of text (Exit/Fire Exit) can greatly assist occupants to identify those routes that are generally used to enter or leave the building (Exit) from those that are provided specifically for evacuation purposes (Fire Exit).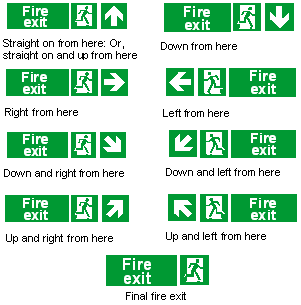 b) Signs that do not comply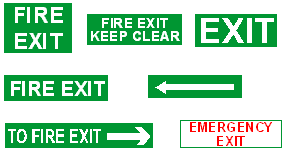 Visibility of signs
 All fire safety signs should be of sufficient size, and positioned so that they are conspicuous and legible within the ambient environment. All fire safety signs should be adequately illuminated at all material times. In conditions of poor natural light (daylight) it may be necessary to provide direct illumination, or the use of photo-luminescent signs may be appropriate.
 
Viewing Distance Table
As a rule of thumb, viewing distances can be calculated from the measurements of the graphic symbol element contained within a fire safety sign.
| Graphic Symbol Height | Viewing Distance |
| --- | --- |
| 100mm | 17.0 metres |
| 110mm | 19.0 metres |
| 120mm | 20.4 metres |
| 130mm | 22.0 metres |
From any point within a building persons should have sight of the nearest exit. If this is not the case a sign, or series of directional signs, should guide people to the exit.
Mandatory Signs
The following signs are mandatory fire action signs and must be in blue. This format is best practice: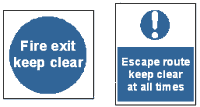 Firefighting Equipment Signs
All firefighting equipment should be indicated by a sign or a red area large enough to allow equipment to be identified easily.
 
Fire Signs That Do Comply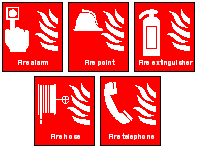 Fire Signs That Do Not Comply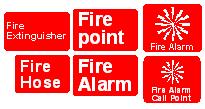 General
Other signs may be used as long as they convey the message clearly and are clearly understood by all building occupants. If in doubt, ask for clarification from the enforcement agency.
 
The 'European' type sign (man next to white block) is lawful, but its meaning is not easily understood by the general public and are likely to be made non-acceptable under proposed European Legislation. The British Standard signs depicted on this document are recommended in preference to the 'European' version.
 
This information is issued as guidance only.