Non-Uniformed Support Staff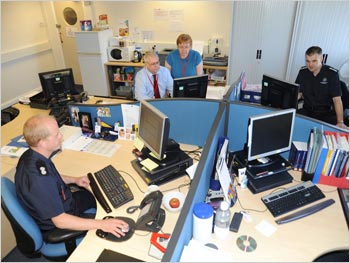 Behind the front-line firefighters is a team of dedicated support staff keeping vital services running smoothly. County Durham and Darlington Fire and Rescue Service needs dedicated specialist staff to provide support to the uniformed operational personnel who are at the forefront of the service fighting fires and performing essential and statutory fire safety duties.
Non uniform staff work in vital support and administration roles enabling the service to provide an efficient, cohesive rescue service as well as promoting safety throughout the community and training to commercial organisations.
We have over 80 members of non operational staff working within the Service.
Roles covered by non operational staff with in the service include positions at a variety of levels within:
Finance
Human Resources
Community Protection
Workshops
Administration
Information Communications Technology
Stores
The Service also employs individuals in the following specialist roles:
Procurement
Asset Management
Research
Media
Analyst
Business Improvement
Fire Investigation
Health and Safety
Health and Fitness
Computer Aided Design
Applicants must complete an application form and demonstrate that they are able to meet the essential and desirable criteria to be found on the person specification for the post
For more information on any of the roles above please contact the Human Resources team: #humanresources@ddfire.gov.uk
New job openings are posted on https://www.northeastjobs.org.uk