Image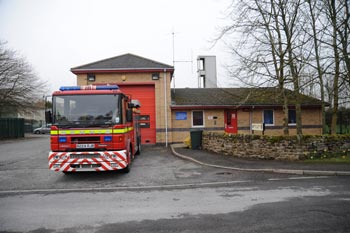 Address
Gas Lane
Middleton-in-Teesdale
DL12 0ST
United Kingdom
Overview

Crewing Arrangements

On-Call Firefighters

Management Team

Group Manager: 

Divisional Managers: 

RDS Support Officer:

Community Safety Support

Please contact our Community Safety Team on 0345 2234221
History

1948
Appraisal of the facilities at the fire station at Mastermans Place, Middleton-in-Teesdale in the official report on the formation of Brigade was:

Reasonably sited and although not entirely suitable was suitable for a number of years.

1997
Construction of the new fire station on Gas Lane began. The station became operational in 1998 making this the last of the original fire stations from the formation of Durham County Fire Brigade to be replaced.

The station at Gas lane has a bay appliance bay and training tower and continues to serve the community.
Performance

Links to performance can be found in the list under the performance heading.

When using our reports you can click the arrows icon in the bottom right hand corner to make the report full screen, the reports are also interactive enabling you to select stations or time intervals via the filters at the top of the reports. Charts can also be clicked to filter other charts.

There are also some charts where you have the ability to "drill down" to more granular information, this is indicated by a group of arrows in the top right hand corner when your mouse pointer hovers over the chart. 

It should be noted that the reports will update once daily therefore when looking at the most current information e.g. today, there may be some incidents which will appear in the charts at the next refresh.