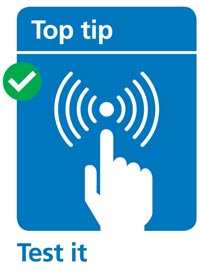 A smoke alarm is a device that will detect a fire in the early stages and give warning to ensure that you have vital extra time to escape.
Why install a smoke alarm?
Each year over 500 deaths and 11,000 injuries occur in fires in the home.
Many of these deaths and injuries could be prevented if people had early warning and were able to get out in time.
Having correctly fitted and operating smoke alarms in you home could help to save your home and the lives of your family from fire.
What type of smoke alarm should you choose?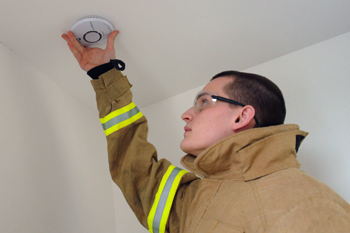 A mains powered smoke alarm with battery backup is the best type of alarm to choose, but a battery powered smoke alarm (preferably with a long life battery - 5 or 10 year life) is good to achieve basic protection. Other alarms can fit into a light socket and re-charge when the light is turned on.
There are several different types of smoke alarm to chose from but make sure that the alarm you choose has the British Standard Kitemark.
Smoke alarms may have other features including:
Hush buttons to reduce the sensitivity of the alarm while you are cooking therefore to reduce unwanted false alarms.
Linked alarms with this type of alarm all the units in your home are linked so that if one detector activates all the units will sound. This is a good system to use for larger houses or for attic rooms as it gives vital early warning.
Smoke alarms for people with hearing impairment or hearing loss
If you or someone you know suffers from hearing impairment or hearing loss a smoke alarm designed for those with sensory loss could help keep you/them safe. Please call your local council social care team on one of the below numbers.
03000-267979 Durham County Council
01325-406111 Darlington Borough Council
For more information on smoke alarm systems for the deaf and hard of hearing please contact the Royal National Institute for Deaf People (RNID) on (0808) 8080123 or visit www.rnid.org.uk
How many smoke alarms should you have?
For an ideal situation you should have one alarm in each room of you house (except the kitchen and bathroom). A minimum standard is one smoke alarm for each floor of your home.
In addition it is advisable to locate a smoke alarm in the bedrooms of your children.
Help with smoke alarm installation
The ideal locations for smoke alarms are at the top of the stairs, on stair landings and between living and sleeping areas.
Please contact our Community Safety Team on 0345 2234221
Looking after smoke alarms
Many people are killed each year because their smoke alarm did not work due to missing or flat batteries.
You should check your alarm within the following time periods:
Weekly - Test the Battery. (using the test button provided on the alarm)
Monthly – vacuum the alarm to remove dust
After 10 years - it is best practice to replace the entire alarm.
If there's a fire in your home;
Get Out
Stay Out
Get the Fire Service out. Dial 999
For more information please visit www.gov.uk/firekills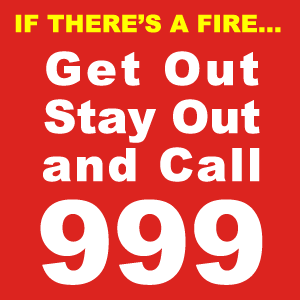 For information on carbon monoxide (CO) poisoning, visit the Health and Safety Executive website at https://www.hse.gov.uk/gas/domestic/co.htm