Image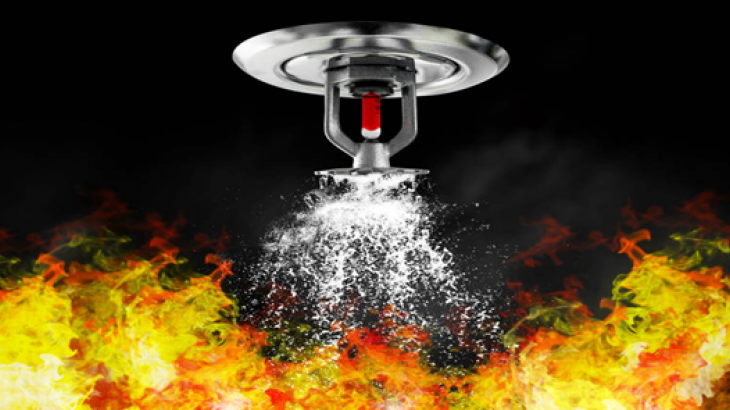 1 - Introduction
Sprinklers are the most effective way to ensure that fires are suppressed or even extinguished before the fire service can arrive. They save lives and reduce injuries, protect firefighters who attend incidents and reduce the amount of damage to both property and the environment from fire.
The National Fire Sprinkler Network (NFSN) and the National Fire Chiefs Council (NFCC) produced the document - Efficiency and Effectiveness of Sprinkler Systems in the United Kingdom: 2017. The evidence produced indicates that sprinkler systems operate on 94% of occasions demonstrating very high reliability. Where the system did not operate the analysis considers whether there are reasons that it could not be expected to operate e.g. because there was insufficient heat to activate the sprinkler heads, the system could be turned off or there could be no sprinkler coverage in the fire compartment or area. Furthermore, it is evident that when they do operate they extinguish or contain the fire on 99% of occasions and are thus very effective.
In the data set there were 945 cases in which sprinklers were activated. The impact of the sprinkler system is known for 677 fires of these cases. Across all fires for which data were available, the sprinkler systems contained or controlled the fires in 62% of incidents and extinguished the fire in 37% of incidents. Hence, the performance effectiveness of sprinkler systems was 99% across all building types.
County Durham and Darlington Fire and Rescue Service recognise that sprinklers are an effective part of an overall fire safety solution and can be used efficiently to improve fire safety in a range of new and existing buildings.
The installation of fire sprinklers allows for such flexibility in building design and helps enable such features as:
Larger compartment sizes

More open spatial designs

Extending travel distances

Reducing exit door widths

Reducing periods of fire resistance to elements of structure

Reducing space separation constraints for example, distances between buildings

Reducing design fire size allowing for alternative smoke management strategies

Overcoming fire fighting access constraints

More flexible building management plans for the end user
 It is recognised however, that even with our best efforts we will not be successful in persuading developers to install fire sprinkler systems in every case, however we will recommend sprinklers in any building where we feel it would be appropriate for either life safety or business continuity.
2 - CDDFRS Position Statement on Automatic Fire Suppression Systems
County Durham and Darlington Fire and Rescue Service recognise the benefits of sprinklers and suppression systems and fully support and encourage their use. We do however understand the financial constraints on businesses and Local Authorities and as such we are committed to working with organisations to find the most appropriate fire safety solution to ensure the safety of all occupants in a premise as well as the business continuity requirements of an organisation. For this to be successful it is vital that the Fire Service is consulted at the building design conception phase before plans are designed and drawn.
3 - Tiered Approach to Fire Protection of Buildings
Various levels of protection can be designed into premises:
Life Safety Sprinkler System – Full sprinkler protection with secondary water and power supplies. This level is required when a sprinkler system is required to meet the functional requirements of the Building Regulations. This includes property protection systems required under the building regulations. These are the most expensive systems but also the most reliable. Use – Complex design Hotels, large Care Homes and Hospitals.
Property Protection Sprinkler System – Full sprinkler protection with a single water supply and power system. Use – Schools, High value manufacturing, Warehousing.
Mist system – High pressure suppression system which uses less water and usually smaller bore pipes than a sprinkler system and can result in smaller tank size. Mist systems are best suited to a premise with smaller enclosed compartments. Use - Office premises with smaller compartments.
Limited Coverage Sprinkler / Mist Systems – Systems can be designed to cover high risk areas of a premise such as kitchens / workshops / high risk or hazardous storage areas.
Gaseous Suppression Systems – Such systems are utilised in computer server rooms or areas with fragile artefacts such as museums etc, where water could cause substantial damage to systems or objects.
4 - Building Type Examples
Commercial Premises
There are a range of thresholds which already require fire sprinklers to be fitted in some types of commercial premises by National Building Regulations in England and Wales. Only warehouse premises in England and Wales of 20,000m2 or above have to be fitted with fire sprinklers (Approved Document B, Volume 2) - Maximum Dimensions of building or compartment (non-residential buildings). Irrespective of size, there is however a compelling case to be made for fire sprinklers in any commercial premises, on the basis of loss of production or interruption to business, as this is a real impediment to business continuity and productivity.
It is recognised that a large proportion of businesses suffering a serious fire either never recovers or cease trading within a very short time. The installation of fire sprinklers in these types of premises will aid growth in the economy as fewer businesses will cease to trade, losses from fire will reduce and fewer businesses will be forced to relocate.
We will work with all stakeholders in the commercial sector and developers of buildings to highlight the benefits if sprinklers for businesses.
Care homes
Care Homes usually rely on delayed or horizontal evacuation strategies when responding to alarms and fires however, as we have an ageing population many more people are less mobile (and in some cases immobile), thus, delayed and horizontal evacuation strategies may no longer be appropriate to provide adequate protection for vulnerable people living in residential care premises.
We therefore consider that it would be advantageous for all residential care homes to be fully fitted with fire sprinklers for the protection of residents from fire.
Schools
The impact of school fires is significant, not just in financial terms, but also in terms of the devastating effect on the communities they serve, the environment and the disruption to students, teachers and families.
The effects on children's education are not confined to lost course work but often include longer travelling times, disrupted social groups and difficulty in finding places for displaced students. If fire sprinklers are considered at the design stage of building a new school or the refurbishment of existing buildings, the costs can be kept to a minimum.
By engaging with designers and architects' schools could be designed innovatively to inspire learning, safeguarding the broadening requirements being placed upon them as community resources and incorporate this essential fire safety system as standard. To this end we continue to work with schools, colleges and education authorities to ensure that the benefits of fire sprinklers are fully considered.
In new and refurbished schools, we expect that the Department for Education risk assessment tool and policy (as stated in BB100 Design for Fire Safety in Schools) are used and that fire sprinklers are installed when recommended.
Domestic Premises
Fires in the home still account for the greatest number of fire deaths and injuries each year and therefore the installation of Sprinklers in domestic premises would have a significant impact in reducing these. CDDFRS believes that it is vital that we use our influence to ensure that all new housing is fitted with sprinklers and other social infrastructure projects consider the benefits of sprinklers.
More and more vulnerable people with less mobility are remaining in their own homes. The evacuation policy of "get out, stay out, call us out" is becoming increasingly less appropriate as a result of an ageing and changing demography. CDDFRS believes by providing sprinklers in all new build homes, we will go some way to addressing the challenges of a changing demography including an ageing population and policy changes to social care.
The Lifetime Homes Standard, established in the mid-1990s, identified a set of principles that should be implicit in good housing design. The design criteria should maximise utility, independence and quality of life, while not compromising other design issues such as aesthetics or cost effectiveness. It covers important considerations that need to be addressed in order to allow occupants to remain in the dwelling as they become older and more vulnerable to mobility issues. However, the Lifetimes Homes standards and in particular the design criteria do not adequately cover the protection of the occupant from the risk of fire. Therefore the installation of a fire suppression system such as domestic sprinklers should be considered.
CDDFRS firmly believe that all new homes should include the fitting of domestic sprinklers at the point of build and in particular any property designed to be used by more vulnerable groups. Providing sprinklers will protect all house occupants, particularly those that are vulnerable from the devastating effects of fire.
CDDFRS strive to make sure that new housing and other social infrastructure projects, especially those involving vulnerable persons, consider the benefits of sprinklers. We seek to work closely with all local and planning authorities to include sprinklers at concept stage prior to seeking planning approval so that the benefits of automatic suppression can be considered before the design and costing decisions are so far advanced that it is too late to include them.
Registered Social Landlords (RSLs)
CDDFRS believes that a true partnership approach to housing with social landlords is needed to ensure that homes provide and maintain a high degree of safety from fire. The installation of domestic sprinklers will help to ensure a 'home for life'. We will actively encourage and work with RSLs to fit domestic sprinklers into all newly built homes and all refurbished homes; We will encourage and support RSLs to install, at the initial build or introduce retro-fit sprinklers, into properties where occupants are vulnerable. These will include all homes with a large occupancy and all modernised homes.
5 - Safe Environment
Fire sprinkler systems prove to be vital protection for a building, a company's assets and the welfare of people who work there.
Ensuring employee safety should always be top priority. Businesses should provide proper measures for fire protection, fire prevention, and firefighting and evacuation systems in an emergency. Under the businesses must safeguard the health, safety and welfare of all its employees, especially in the case of fire where steps must be taken to help protect workers from hazardous conditions. A sprinkler system is the only device that can detect a fire, sound an alarm, alert the fire and rescue service and deliver water immediately to the fire, thereby extinguishing it or preventing spread.
Businesses should always put safety first. Safety is about protecting employees from the risk of injury in the workplace.
Employers have a legal obligation to protect their staff and all employees have the right to work in places where risks are properly controlled and minimised.
A fire can obviously prove a serious threat to the health and safety of staff members. As well as external burns, or worse, some of the most incapacitating fire injuries relate to lung damage from breathing smoke and fumes. By protecting your business you protect your workforce.
Fire is a serious threat to personal safety and health. Firefighters who respond to fires place themselves at serious risk in order to protect life and property. Each year, thousands of fire fighters are injured in the performance of their duties worldwide.
While the majority of injuries are minor, a significant number are debilitating and career-ending. These injuries exact a toll on the Fire and Rescue Services. Recent cases of fires in business premises have demonstrated the dangers to which fire fighters are exposed, especially in very large, single- story buildings where the size, layout, and contents of the premises often result in substantial injuries.
The installation of fire sprinklers will significantly reduce injuries and deaths to firefighters and create a safer environment.
We will actively promote the installation of sprinklers to ensure the safety of the public and our staff. We will use our regulatory powers, where circumstances permit, to ensure sprinklers are installed in the built environment