Image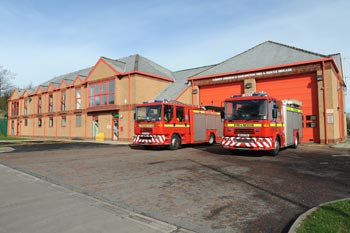 Address
Villa Real Road
Consett
DH8 6BH
United Kingdom
Overview

Crewing Arrangements

Wholetime and On-Call Crews

Community Safety Support

Please contact our Community Safety Team on 0345 2234221
History

1948
Appraisal of the facilities at the fire station at Park Avenue, Consett in the official report on the formation of Brigade was:
Prefabricated huts and brick-built garage, in poor state of repair. Plans have been approved for the construction of a new roadway cutting across the station yard making it necessary to consider the construction of a new station.
 
1954
A new drill tower was erected at the station on Park Avenue enabling the crews to train to new standards ahead of the proposed move to new facilities.

1958

The first stage of the new fire station at Delves Lane was completed.
 
1961                                                                                             
Completion of the station at Delves Lane with the official opening occurring on 26th March 1961.

1997
The new fire station at Villa Real was officially opened by County Councilor J.D. Robson , C.BE., D.L. It provided a two bay appliance garage, accommodation and training tower.

2008
An extension housing the Community Safety Centre was opened in 2008 by the then Chairman of the Combined Fire Authority Councillor Charles Magee on the 25th June 2008.
Performance

Links to performance can be found in the list under the performance heading.

When using our reports you can click the arrows icon in the bottom right hand corner to make the report full screen, the reports are also interactive enabling you to select stations or time intervals via the filters at the top of the reports. Charts can also be clicked to filter other charts.

There are also some charts where you have the ability to "drill down" to more granular information, this is indicated by a group of arrows in the top right hand corner when your mouse pointer hovers over the chart. 

It should be noted that the reports will update once daily therefore when looking at the most current information e.g. today, there may be some incidents which will appear in the charts at the next refresh.