All premises should be provided with a means for fighting fires that can be easily and safely used by the occupants. The following information may give you guidance under Article 13 of the Regulatory Reform (Fire Safety) Order 2005. It is without prejudice to anything which may be required by an enforcing authority.
In deciding the appropriate type and quantity of such equipment, consideration should be given to the size of the building and the nature of the materials likely to be found there.
It must be remembered that extinguishers are provided primarily for use by suitably trained persons to tackle a fire in its early stages.
 
Water (RED)
Powder (BLUE)
Foam (CREAM)
Carbon Dioxide (BLACK) 
Can be used on
Wood
Paper
Textiles
Solids
Liquid
Electrical
Liquid
Liquid
Electric
Do not use on
Liquid
Electrical
Metals
Metal
Electrical
Metal
Metal
New fire extinguishers must conform to British Standard EN3, which requires all extinguishers to:
Be coloured red;
To have a zone or block of colour, comprising 5% of the body, whose purpose is to indicate the type of extinguishing medium. This block should be located on the front of the extinguisher so that it can be seen from 180° when correctly mounted;
Have a capacity of 1, 2, 3, 6, or 9 litres / kg; and
Use standard labelling using pictorials to describe the fire classification and use.
Note:
Existing fire extinguishers conforming to BS 5423 remain acceptable until such times as they need to be replaced at the end of their useful life.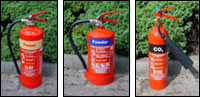 Fires are classified in accordance with British Standard EN 2 as follows:  
Class A Fires involving solid materials where combustion normally takes place with the formation of glowing embers.
Class B Fires involving liquids or liquefiable solids.
Class C Fires involving gases.
Class D Fires involving metals.
Class F Fires involving cooking oils or fats.
Portable Extinguishers - Siting
Whenever possible portable fire fighting equipment should be grouped to form a fire point. The fire point should be clearly indicated so that it can be readily identified.
In premises that are uniform in layout extinguishers should, whenever possible, be located at the same point on each floor.
If for any reason extinguishers are placed in positions hidden from direct view their position should be indicated by suitable signs, as described in BS 5499 : Parts 1 and 3.
Examples of correct signage:
 
No person should have to travel more than 30 metres from the site of a fire to reach an extinguisher.
Location of Portable Fire fighting Equipment
Extinguishers should be sited in conspicuous positions where they are visible to anyone using an escape route.
They should be mounted on brackets fixed to the wall or some other convenient structural feature.
Ideally, larger extinguishers should be mounted so that they can be conveniently de-mounted for use without undue effort or risk of injury. In effect, this will mean mounting the extinguisher with the handle no more than 1m from the floor but, circumstances may dictate variations from this recommendation.
Smaller and more easily handled extinguishers may be mounted with the handle about 1.5m from the floor level.
Suitably constructed floor cradles may be acceptable in certain locations.
Where there are special risks, extinguishers should be grouped conveniently in positions where any user will not be placed in danger whilst attempting to use them.
Other suitable positions include near exits to rooms or storeys, corridors or lobbies, stairways and landings.
Extinguishers should not be sited behind doors or inaccessible positions such as deep recesses or in cupboards.
It is also necessary to consider their exposure to extremes of heat or cold as well as the risk of accidental damage during the normal day-to-day use of the premises. The operation of an extinguisher will be affected by temperature and this could even cause accidental discharge.
In premises where theft and vandalism are a problem, extinguishers may be located in secure areas, but always under the supervision of trained staff.
Hose Reels and Fire Blankets
Where hose reels are provided, they should be located where they are conspicuous and always accessible, such as in corridors.
Fire blankets should be located in the vicinity of the fire hazard they are to be used on, but in a position that can be safely accessed in the event of a fire. They are classified as either light-duty or heavy-duty. Light-duty fire blankets are suitable for dealing with small fires in containers of cooking oils or fats and fires involving clothing. Heavy-duty fire blankets are for industrial use where there is a need for the blanket to resist penetration by molten materials.
If you are unsure about the number, type or, location of portable fire-fighting equipment or hose reels you need, you should check with the local fire authority before purchasing any such equipment.
Sprinkler Systems
In smaller workplaces, portable fire extinguishers will probably be sufficient to tackle small fires. However, in more complex buildings, or where it is necessary to protect the means of escape and/or the property or contents of the building, it may be necessary to consider a sprinkler system.
Sprinkler systems are traditionally acknowledged as an efficient means of protecting buildings against extensive damage from fire. They are also now acknowledged as an effective means of reducing the risk to life from fire.
Systems are being developed which may be suitable for use in workplaces with residential areas, such as care homes and houses in multiple occupancy.
Sprinkler systems need to be specifically designed and installed to the appropriate hazard category in accordance with an approved code of practice.
Further information on the requirements for sprinkler systems can be obtained from your local fire safety department.