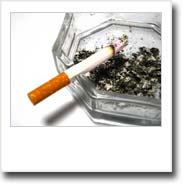 Habits such as smoking while drinking alcohol in the home, or lighting up in bed, are responsible for a third of all accidental house fires resulting in deaths in England, according to the latest government figures.
The warning comes during the run-up to No Smoking Day, which takes place on Wednesday 9 March 2011.
National figures show that in 2009-10, 2,232 house fires were caused by smokers' materials, leading to 76 deaths and 586 injuries. In County Durham and Darlington, there were 20 fires and four injuries.
Keith Wanley, Community Safety Manager, County Durham and Darlington Fire and Rescue Service said: "Although our figures are low, the risk is high. If you are planning to give up on 9 March, we wish you every success. For smokers who are not ready to kick the habit, we urge you to follow some simple safety advice to help prevent a fire at home."
Keith's top tips are:
Put it out, right out. Make sure your cigarette is fully extinguished 
Fit a smoke alarm and test it weekly. A working smoke alarm can buy you valuable time to get out, stay out and call 999.
Never smoke in bed, and take care when you're tired. It's very easy to fall asleep while your cigarette is still burning and set furniture alight
Drugs and alcohol will cause you to lose your concentration and this could be lethal when combined with smoking.
Never leave lit cigarettes, cigars or pipes unattended - they can easily overbalance as they burn down.
Use child-resistant lighters and matchboxes - every year children die by starting fires with matches and lighters. Keep these where children can't reach them.
Tap your ash into a heavy ashtray that can't tip over easily and is made of a material that won't burn. Never use a wastebasket containing other rubbish - and don't let the ash or cigarette ends build up in the ashtray.
No Smoking Day is organised by the charity No Smoking Day. For more information and advice on giving up smoking and No Smoking Day, visit www.nosmokingday.org.uk and www.wequit.co.uk
To help keep you and your family safe from fire, County Durham and Darlington Fire and Rescue Service provides free home fire safety advice. Please contact 0191 3755561 for further information.