The service awarded the Chief Fire Officer's Commendation and Certificate of Appreciation for two separate incidents.
We are extremely proud of Crew Manager Will Noble, FF Laura Birbeck, FF Jason Beadle and retired nurse Jane Pearce who have all been awarded a Chief Fire Officer's Commendation for saving a woman's life in a pub in Stanhope.
The woman, who was from the local area, suffered a suspected cardiac arrest and Jane, who was in the pub at the time, took immediate action. She utilised the pub's defibrillator and provided lifesaving treatment.
An ambulance was called and Stanhope's retained firefighters, who are an integral part of the community, were alerted. Within minutes Will, Laura and Jason responded to provide assistance to Jane.
The team continued to provide a range of medical interventions including clearing an obstructed airway and providing treatment via the defibrillator until the arrival of the ambulance. They ultimately saved her life and she is now expected to make a full recovery.
Chief Fire Officer Stuart Errington awarded the heroic foursome with their commendations commenting "I am immensely proud of you all, it is through your professionalism, swift decision making and exemplary team work that you were able to save someone's life, well done."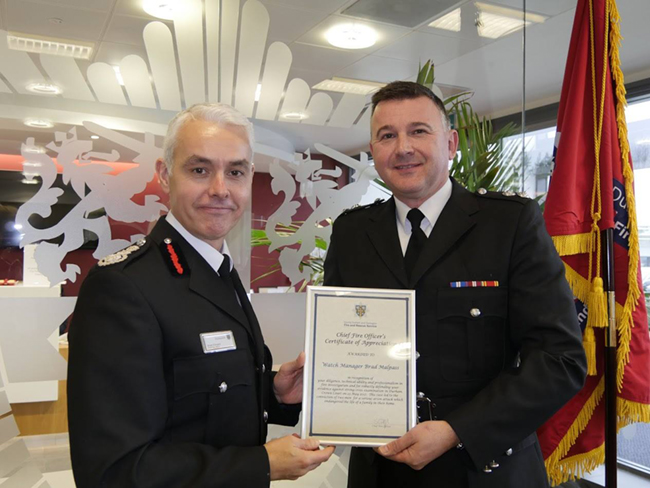 We are extremely proud of Fire Safety Officer Brad Malpass who was awarded a Certificate of Appreciation by Chief Fire Officer Stuart Errington for his part in an arson investigation.
The incident involved a vehicle fire which had spread to a front door of a house with a family of three inside. 
Brad provided the necessary evidence to demonstrate that the fire involving the front door of the property which had threatened the lives of the family inside, had been deliberately set and was not merely the result of fire spread from the vehicles. 
His evidence led to a guilty verdict and custodial sentences for the offenders.
Deputy CFO Colin Bage commented: "Brad's diligence and technical ability in fire investigation led to a successful outcome at court and I am proud that through his professionalism more lives have potentially been saved and justice has been done for those involved.